HAIR FOLLICLE INFECTION
Folliculitis or hair follicle infection is a condition wherein hair follicles become inflamed. It's usually caused by a bacterial or fungal infection. Initially it may appear as small red bumps or white-headed pimples around hair follicles which may spread and turn into non-healing, crusty sores. Permanent hair loss and scarring may result due to severe infection.
According to Ayurveda, skin gets its nutrition from rasa dhatu (blood plasma) and good skin is a reflection of good health of a person. When all the doshas are balanced in a person, it reflects in good shining hair and skin of that person. Imbalances of dosha causes various diseases. Poor nutrition, hot and humid climate, poor hygiene and chronic disease may increase the risk of infection like hair follicle infection.s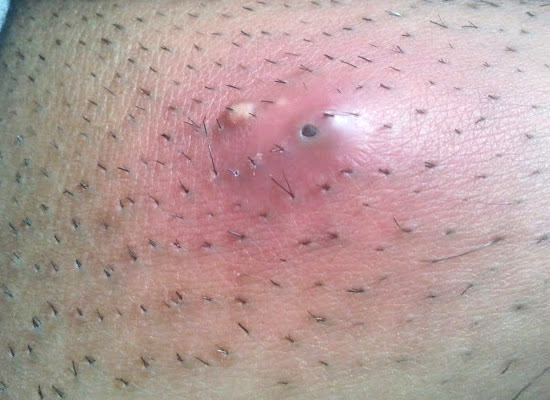 CAUSES OF HAIR FOLLICLE INFECTION
Folliculitis may be caused by either bacteria or fungus. Follicles that are damaged are at an increased risk of infection.
The most common causes of follicle damage are:
Friction due to wearing tight clothing or shaving
Injuries to skin
Heat and sweat
Plastic dressings or adhesive tape
Skin conditions, such as acne and dermatitis
Anyone can develop folliculitis. But certain factors make increases the risk of the condition:
Medical condition such as diabetes, chronic leukemia and HIV/AIDS that reduces resistance to infection, such as
Past damage to skin
Medications
Overweight
Wearing clothes that traps heat and sweat regularly
Soaking in a hot tub which is not maintained well
Shaving
SYMPTOMS OF HAIR FOLLICLE INFECTION
Folliculitis symptoms include:
White-headed pimples or small red bumps developing around hair follicles
Blisters that are pus-filled which break open and crust over
A large swollen bump or mass
Tenderness or pain
Red and inflamed skin
Itchy or burning skin
HAIR FOLLICLE INFECTION AYURVEDIC TREATMENT
The ayurvedic management of the disease is balancing the vitiated dosha and giving diet and lifestyle recommendations along with herbs to strengthen the hair health.
Internal medicine
Shaman chikitsa
Asthimajjavah chikitsa
Raktavah strotas chikitsa
Nidanparivarjan chikitsa
Immuno boosting therapy
Panchkarma
Shirodhara
Shiropichu
Shirolepam
Basti
Nasya
Abhyangam
Yoga & Pranayama
Meditation
DIET RECOMMENDATIONS (AAHAR)
Drink at least 8-10 glasses of water, it helps maintain hydration in the body and keeps you healthy.
A proper balanced diet should be taken like fruits, vegetables and curd.
Encourage intake of other fluids including soups and juices. Soups like tomato soup, spinach soup or mixed vegetable soup contain several essential nutrients which strengthens the hair follicles