The family is the most important unit of society. A stable family environment is absolutely essential for the nurture of children. It is here that an individual imbibes values and learns life skills. Family means affinity, oneness and co- existence with love. It is about being bonded by the power of love. Knowing that it is all for one and one for all. It is about forgiveness and patience. About freedom, understanding, standing by each other when all else falls. It is also love, attachment & gratitude.
From time immemorial Indian society has promoted the joint family. And rightly so! For whatever its disadvantages, the joint family provides an ideal environment for bringing up children. The presence of a large, stable extended family helps children pick up social skills and learn the art of harmonious and altruistic corporate living. It is here that ethical and moral values are imbibed.
Such an environment produces good and stable human beings who are an asset to any society because these individuals bring to society what they received within the family.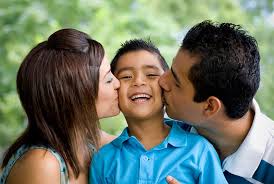 We can safely aver therefore that society in the macrocosm reflects the family in the microcosm.
In recent times the joint family has given way to the nuclear family. What once was the joint responsibility of many individuals now rests solely on the husband-wife pair. Added to this the extended family which functioned as a buffer to and arbiter of conflicts is no longer available. Together with today's fast and furious life style, change in values and man's greed and self-centeredness, we appear to be sitting on a powder keg. And the signs are all there.
Families are falling apart.
The divorce rate is soaring.
Domestic violence is increasing
A high percentage of children need counseling
Teenage pregnancies are becoming common and so forth
Having recognized the enormity of the problem and the need for urgent action, our priority is to help the family overcome their differences and to promote cordial relationship between the members so that the health of the family is restored.