DRY HAIR
Most infants or toddlers can understand what you are saying well before they can clearly talk. As they mature & their communication skills develop most children learn how to put their feelings in to words. but a child with a language disorders may have trouble understanding words that they hear and read.
But some children have language disorders. they  may have
1) Receptive language disorders
2) Expressive language disorders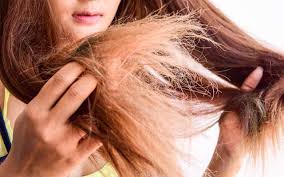 CAUSES OF DRY HAIR
Some causes of dry hair are:
Anorexia nervosa
Excessive blow-drying
Excessive washing of hair, or usage of harsh soaps
Menkes kinky hair syndrome
Dry air
Malnutrition
Underactive parathyroid or thyroid gland
SYMPTOMS OF DRY HAIR
Brittle, lackluster appearance of hair
DRY HAIR AYURVEDIC TREATMENT
Ayurveda recommends balancing dosha for strengthening dhatus (tissues) leading to good hair health. Ayurveda has given various dietary, lifestyle and herb suggestions to maintain good, lustrous hair.
Internal Medicine
Aam Pachan chikitsa
Raktvah strotas chikitsa
Asthimajjavaha chikitsa
Manas chikitsa
Immuno therapy
Panchkarma
Basti
Nasya
Snehan
Swedan
Shirodhara
Shiropichu
Abhyang
Udavatan
Lepan
Yoga & Pranayama
Meditation
DIET RECOMMENDATIONS (AAHAR)
Increase intake of foods such as pumpkin seeds, flax oil, and dark green vegetables
Include foods such as rice bran, dairy broccoli, carrots and soybeans into the daily diet. They help in nourishing hair and scalp
Consume plenty of poultry, meat, and whole grains to increase your iron levels, which helps to provide oxygen to the hair
Hydrate the body by drinking plenty of water which will keep the hair from drying out.
Avoid caffeine and alcohol
Avoid cakes, cookies and other sugary snacks
LIFESTYLE CHANGES (VIHAR)
Regular cleansing and brushing stimulates the sebaceous glands that produce natural oil, giving shine to the hair
Lemon is effective for shiny and lustrous hair
Henna provides good conditioning for hair
Powder of amla and shikakai mixed with curd is a good conditioner
Warm oil massage to scalp and hair with warm oil is an effective way to nourish the scalp and hair